Click on
thumbnails

below for more details on our various pool slide divisions
Double Flume Slides

Portable Pool Slides

Single Flume Slides

Double Flume Pool Slides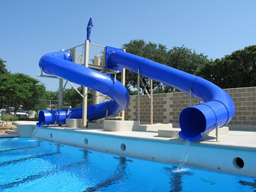 Double Flume Pool slides add excitement to your pool.
Double the flume, double the fun!
Models:
0083, 0085, 1800-81, 5022, 9006, 9012, 9113, 9305, 9308, 9409, 9410
Portable Pool Slides
Recommended Usage: Excellent slide for ages 12 years & younger.
Portable Pool Slides are designed to encourage excitement and introduce young children to the water environment. Enclosed risers and super-safe Aqua-Plast coated textured stairs are great for young children. 15" x 18" Aqua-Plast coated safety deck at top of slide entrance.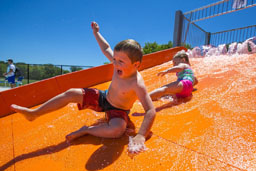 Single Flume Pool Slides
Single Flume Pool slides add excitement to your pool and help increase attendance! Designed for use in residential applications, public pools or areas in water parks that won't allow a larger slide, pool slides come is a wide range of sizes and configurations.
Models:
0072, 1676, 1677, 1800-52, 2100, 7008, 8010, 9106, 9108, 9206, 9208, 9210, 9211
Manufactured with Pride in the U.S.A.